Body Piercing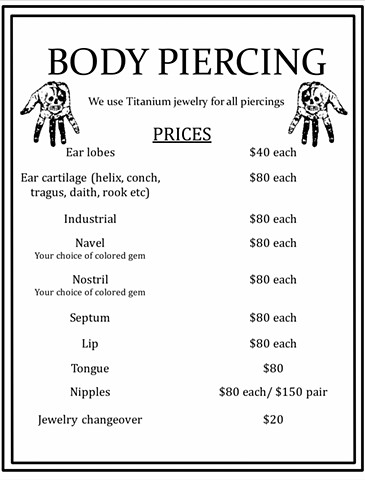 PIERCING FAQ's


What is the minimum age to get a piercing?
Under Florida law, the minimum age is 18.
Minors are also permitted to get a piercing provided they have notarized consent in the form approved by the Florida Department of Health and they are accompanied by their parent or legal guardian.
We do not pierce babies' ears.


Do I need to make a booking?
Walk-ins are welcome, however we always recommend booking an appointment or at least contacting the shop before you arrive (by phone, email or DM on Facebook or Instagram) to ensure we can accommodate you.


How long will my piercing take to heal?
Every person heals differently due to various factors such as age, health and how you care for the piercing.
The following is a general guide to healing times.
Ear lobe: 6-8 weeks
Navel: 2-3 months
Cartilage: 6-12 months
Nostril: 3-6 months
Tongue: 4-6 weeks
Nipples: 6-12 weeks
Eyebrow: 4-6 weeks
Tragus: 6-12 months
Lip/Labret: 6-8 weeks